Wedding Transfer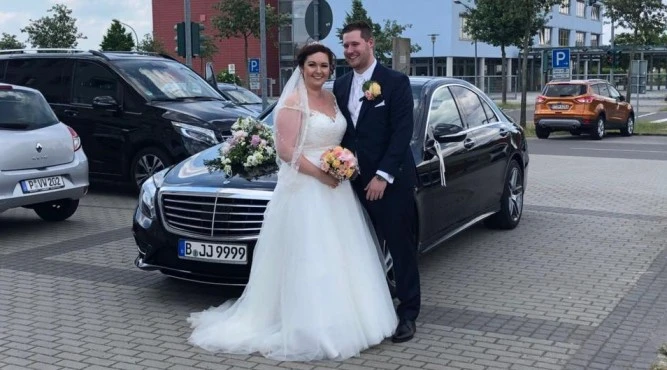 Let Us Drive You to Happily Ever After
Ready to tie the knot and looking for a luxurious transportation experience to make your wedding day unforgettable? Look no further than MyChauffeur's wedding service!
Make your wedding day extraordinary with our exclusive limo service

Your wedding day is one of the most important and memorable days of your life, and you want everything to be perfect. From the dress to the venue, every detail matters. At MyChauffeur, we understand that transportation is a crucial part of your wedding day, which is why we offer the ultimate wedding transportation solution that is unique, memorable, and simply unforgettable.

Our fleet of luxury vehicles, including limousines, sedans, and mini-buses, are available to transport you and your guests to and from your wedding ceremony and reception. Our professional and experienced chauffeurs will ensure that you arrive in style and on time, with a touch of elegance that will leave a lasting impression.

Imagine stepping out of a sleek and stylish limousine, with your dress flowing gracefully behind you, and all eyes on you as you make your grand entrance. Or, picture a group of your closest friends and family, laughing and sharing stories as they travel together in a luxurious mini-bus, creating unforgettable memories that will last a lifetime.

Elevating the standard: Why we're a cut above other Limousine services?
At MyChauffeur, we go above and beyond to make your wedding transportation experience unique and unforgettable. Whether you need transportation for the bride and groom, the entire wedding party, or your guests, we have the perfect solution for you. From us, you can expect:
A luxurious and comfortable ride in a top-of-the-line vehicle
Professional and experienced chauffeurs who are dedicated to making your day special
Customized transportation solutions tailored to your specific needs and preferences
Attention to detail and a commitment to ensuring your satisfaction
Our friendly booking agents are available 24/7 to help you plan the perfect ride for you and your guests. Don't wait, get your quote now and let us help make your wedding transportation dreams a reality!